Get 20% OFF Your ENTIRE ORDER with your PROMO CODE!
🚚📦 Free Shipping (USA Only) When You Spend $65 Or More
Free Body Lotion Sample When You Spend $65 Or More
For those who have tried everything else...
Eczema Honey was made for you.
After nothing worked for our daughter to relieve her eczema, we created Eczema Honey Skin Smoothing Cream.
Proven to be effective for:
✔ Dryness
✔ Sensitivity
✔ Itchiness
✔ Eczema
✔ Rashes
Safe for All Ages!
From infants to young adults to seniors, Eczema Honey provides skincare solutions for all ages and all skin types.
Accepted by The National Eczema Association
Dermatologist
Tested
Natural Ingredients
Gentle for Everyone
Free parabens, sulfates, phthalates & fragrances
Leaping Bunny Cruelty Free
Steroid Free
Amazing Eczema Honey
Skin Transformations!
REAL USERS - 100% REAL RESULTS
"This helps so much!!"
My little one is 3. She has had eczema since she was 4 weeks old. She is allergic to grass pollen and tree pollen. So she is constantly flared. Foods also flare her. I could never find anything that makes her skin feel moisturized and also calm some flares. This stuff works for us! Eczema honey helps her, moisturizes her super dry skin and it does not hurt her. We have tried many many products/lotions and also have a plethora of steroid creams and salves. I hate using so many steroids on her. And wanted to find a natural way of helping her. I will be ordering this product again. Her and I both love this!! She calls it her bee medicine. I am including a before and after picture in this review.
Amanda L.
"Cleared her skin"
This eczema honey is GREAT! I've definitely noticed a difference in my babies skin and flareups since I have started using the soothing cream. My 3 month old suffers with severe eczema and mixing this with her topical mild hydrocortisone cream has DEFINITELY given her much relief and has cleared her skin very well.
Brianna P.
"Amazing!"
I am so impressed with the results I've seen since using this cream! It's healed the eczema on my hands the fastest. After 8 full days of using it (2nd pic), all that's left is some hyperpigmentation from the scabs. 1st pic was taken the day before I bought the cream. For the 1st few days, I was applying it 3x a day as suggested, but after a while, once a day sufficed! The eczema on the rest of my body is healing nicely, just not as quickly, but I'm happy with that!
Erin
"Mitigated my pandemic-induced flare up"
At first I was a little worried because it is quite sticky when you first put it on, but after about a week of applying it to my hands along with Eczema Honey's cotton gloves (highly recommend too! They really keep me from itching and help with the stickiness) I began to see a huge improvement. I wish it came in a bigger size, and was a bit cheaper but still feels worth it considering how much it helped my hands.
Gabrielle S.
"Gentle & Effective"
I've been using this on my 4-year-old's eczema for a couple months now, and the picture speaks for itself! We tried everything and nothing worked, and I was always worried about using products because her eczema is on her eyes. This is gentle, doesn't burn like so many other things, and it stopped the itch so she could heal. It didn't clear up immediately, but keep using it and be patient. Hers cleared in a month. It goes on so nicely and I don't feel worried when I use it. I am so relieved and so grateful to have found something that worked for my sweet girl.
Haley M.
"Infant eczema"
At first I was weary about using the product on my 5 week old. But when I did, I feel in love! I've literally tried so many things but nothing has healed and moisturizers her skin quite like this! Definitely a must try product for moms.
Kapria
"Wonderful product"
After just a short 10 days my daughters was almost completely clear! We tried prescription creams, every cream/lotion on the shelves, but this really worked!
Kristen W.
"Beyond amazing product!"
I cannot say enough good things about this product and I sing it's praises to anyone that will listen! I had a horribly uncomfortable, itchy, awful rash for 3 years. I've been to dermatologists and allergists and had all sorts of tests done including multiple biopsies and no one could ever give me an answer. It was always take this pill, try this steroid cream, blah blah blah with minimal to no relief. I recently decided to look into some research on the healing powers of honey and it lead me to this very product. I was skeptical but what did I have to lose. I ordered it and felt IMMEDIATE relief from the first application! I was shocked! Even my husband noticed that I didn't claw my skin off until I was bleeding which had previously been at least a daily occurrence. Within a week and a half my horrid rash was nearly gone! The results have been nothing but amazing! My only regret is that I didn't find this product sooner. Just look at my results!
Melanie S.
Judy G
"OMG instant relief"
"I didn't expect much relief the first time I used it but OMG instant relief from a massive itch-scratching area. Such a great product!"
Ashley M
"Her eczema is gone"
"We have tried EVERY steroid and non-steroid prescription from our dermatologist and nothing seemed to work… Within 8 days of daily use my daughter's skin complexion came back and her eczema is gone."
Jolie F
"I love how this cream feels"
"I love how this cream feels when you put it on. I put it on first thing in the morning and at night before I go to sleep. It really took away the redness on my arms and calmed my itchy skin."
Key Benefits
Hydration
Organic Honey draws moisture to the top layer of the skin
Antioxidant
Neutralizes free radicals & prevents them from causing damage to the body's cells.
Skin Protectant
Forms a protective layer over the skin to prevent further irritation
"Leaves the skin looking moisturized and visibly healthier."

- Allure
What your skin needs
We developed this as a natural solution for ourselves and our children,
and we're proud to share it with you. √
Trusted by thousands of customers already,
our patented formulation of natural ingredients is safe for all skin types.
The Original Skin Soothing Cream
can be applied to any area of the body experiencing:
dryness, sensitivity, itchiness, and/or rashes.
What's Inside Eczema Honey?
Natural, carefully sourced ingredients formulated in the USA.
Beeswax
Proven to offer intense moisturizing, and rich in vitamin A.
Organic Honey
A natural humectant that helps hydrate skin, leaving it soft, radiant, and glowing.
Almond Oil
A highly effective emollient that soothes, softens, and repairs the skin.
Organic Sunflower
A highly effective emollient that soothes, softens, and repairs the skin.
Gluten-Free Ingredients
Helpful for sensitivity and skin irritation.
The Eczema Honey Difference:
NATURAL, SIMPLE, EFFECTIVE
Many brands focus on glamorous packaging, refreshing fragrances, and added shading to cover up skin irritations.
Most Cleansers: Remove dirt and oil too aggressively and wear down the skin barrier.
Most Serums: Don't contain the right ingredients to absorb into the deeper layers of skin.
Most Lotions & Creams: Are uncomfortably greasy and clog pores leading to acne.
Soothing relief for sensitive skin can only last long-term when you nourish the deeper layers of the skin with clean, safe, and non-toxic ingredients that give your skin the hydration & protection it needs... And the cooling sensation your skin loves!
We put emphasis on high-quality, food-grade, natural ingredients known for their revitalizing and skin-loving properties. Our formulas are gentle yet so effective, we'll give you a full refund if you aren't satisfied in any way
No Questions Asked!
Join over a half a million customers choosing Eczema Honey to give their skin soothing relief that lasts!
Check out our bundles!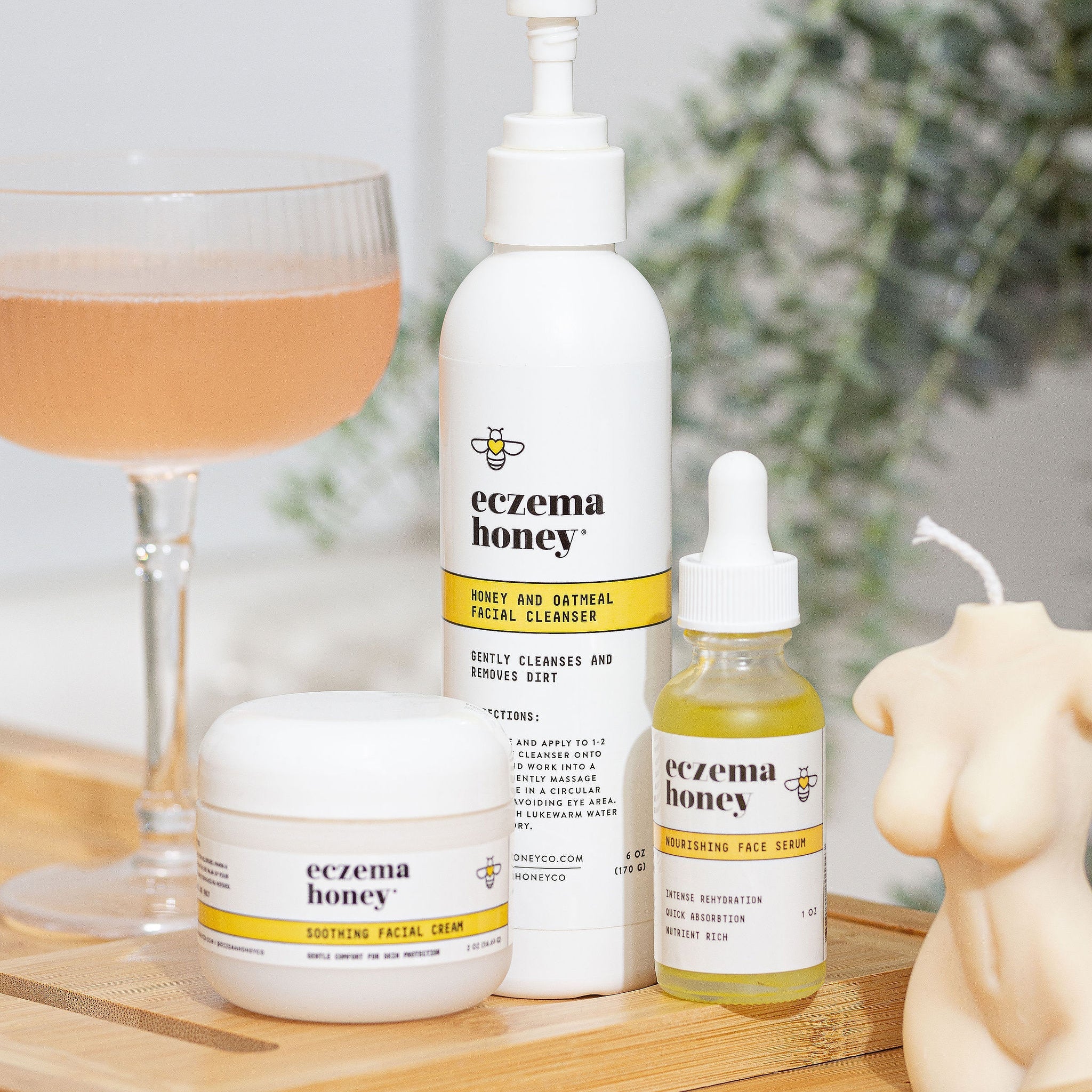 Eczema Honey's Honey Skin Facial Skincare Set
Regular price
$70.00 USD
Sale price
$55.00 USD
Unit price
per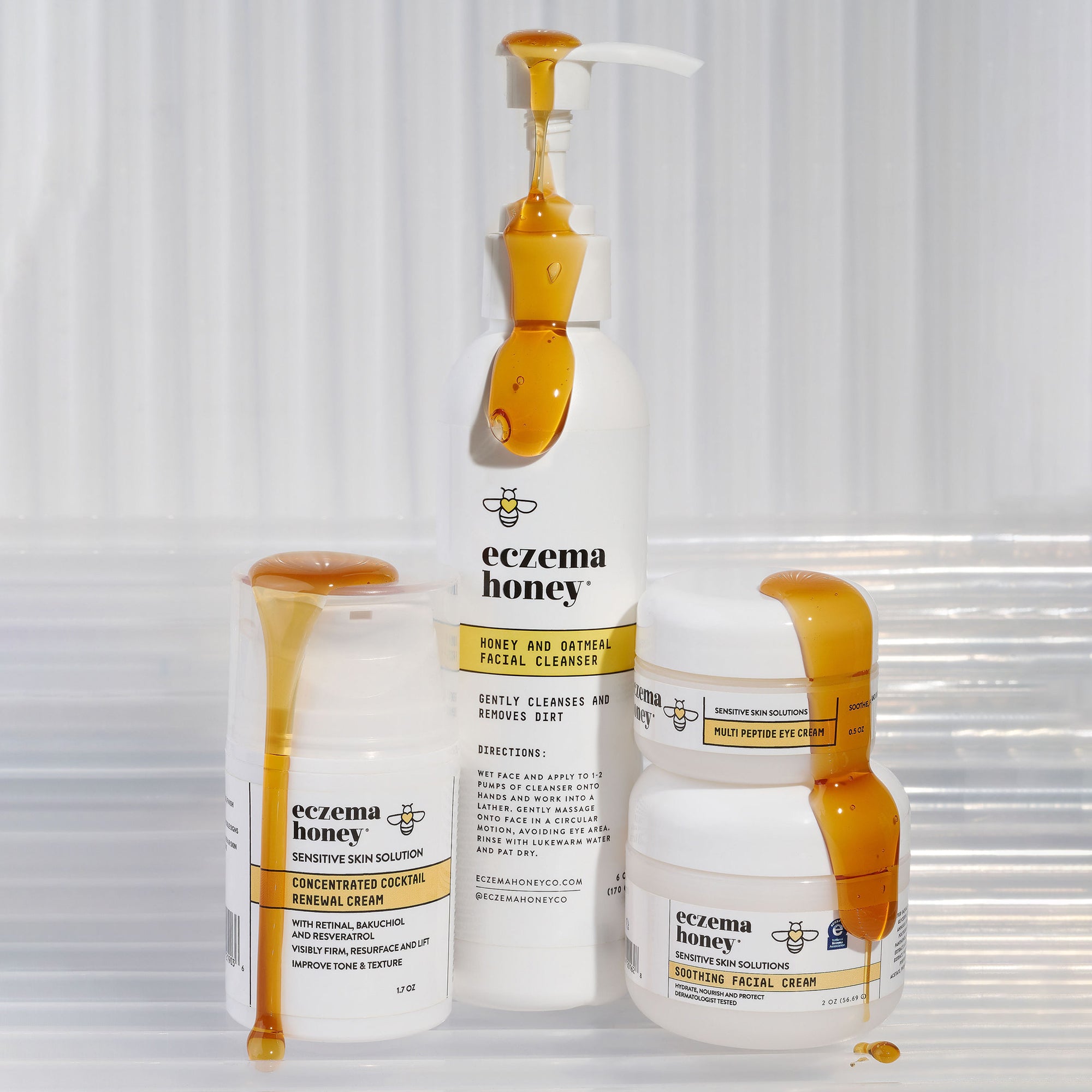 Eczema Honey Plump Honey Skin Bundle
Regular price
$75.00 USD
Sale price
$64.00 USD
Unit price
per
Eczema Honey Bestsellers Set
Regular price
$93.00 USD
Sale price
$75.00 USD
Unit price
per
Rated 4.9 Stars from 5,000+ Reviews
Choosing a selection results in a full page refresh.